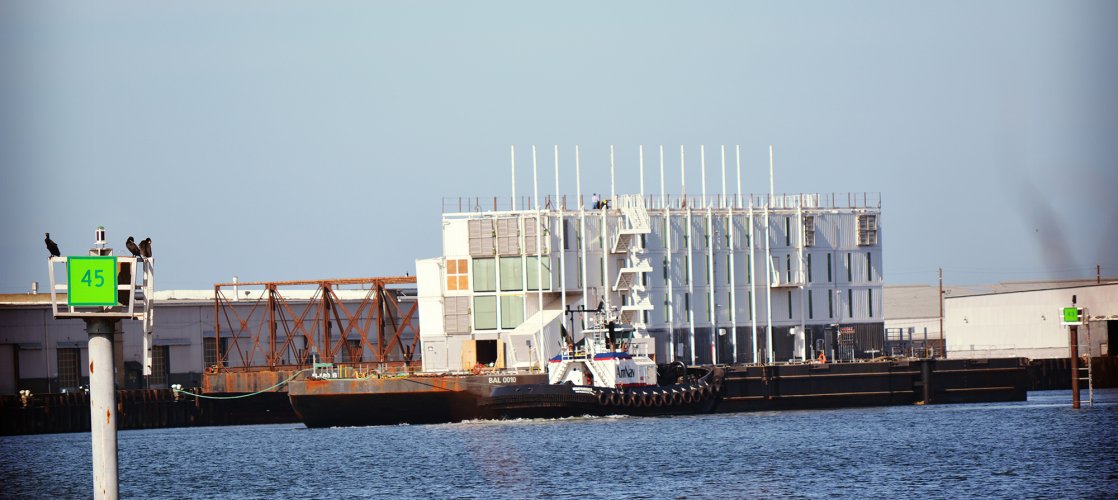 Google Barge at the Port of Stockton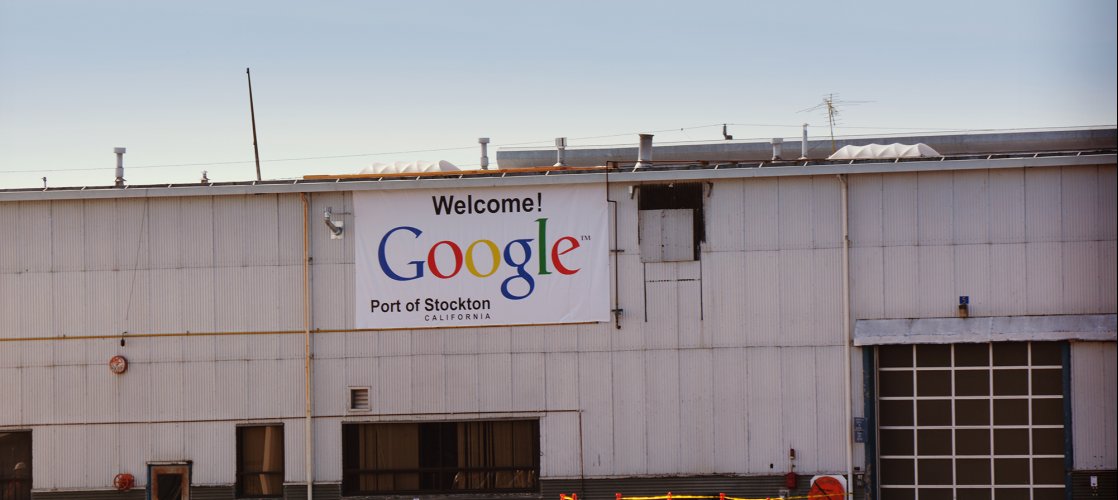 Google Barge at the Port of Stockton
Google Barge in Stockton
Welcome to Stockton, Google!
The Google Barge arrived at the Port of Stockton on March 6, 2014 and has captured the attention of the world. Current plans indicate that the barge will stay in Stockton for the next six months.
What is the Google Barge?
"'Google Barges' refers to a group of four floating barges built between 2010 and 2012, commissioned by Google to serve as 'an interactive space where people can learn about new technology,' possibly as luxury showrooms for Google Glass and other products, on an invitation-only basis." As of March 6, 2014, at least one barge is docked in the Port of Stockton, "while another is in Portland, Maine." More about Google Barges at Wikipedia.
Where is the best public place to view the Google Barge in Stockton?
The barge is docked at the Port of Stockton in a high-security, restricted area with no public access. The best place to view the barge is from the opposite (north) shore of the Stockton Channel. Much of this area is private property, so the best vantage point by car is at Dad's Point near Louis Park. Dad's Point refers to a peninsula that juts off of the park near the boat launches. Map of the park and peninsula (labeled at Atherton Island).
If you'd like to catch a glimpse by boat, the Google Barge is located on the Stockton Deep Water Channel (San Joaquin River) near Light 43.
Official statment from Google about the move to Stockton:
"It's been a busy six months for our barge and it's grown tired of all the attention, so we are moving it to Stockton where it can have a break, enjoy the city's delicious asparagus and warmer climate, and get a bit of rest before its next chapter." - FOX40
News about the Google Barge in Stockton
Google Barge arriving in Stockton this morning - CNET
Google barge arrives in Stockton - KCRA
Aerial Photos of the Google Barge - Recordnet.com
Video of the Google Barge's Arrival - USAToday
5 Things to Know About Google's Mystery Barge - KCRA
Hope floats: Google barge brings more than just tech secrets - Recordnet.com
Google Barge photos via Instagram (#googlebarge):