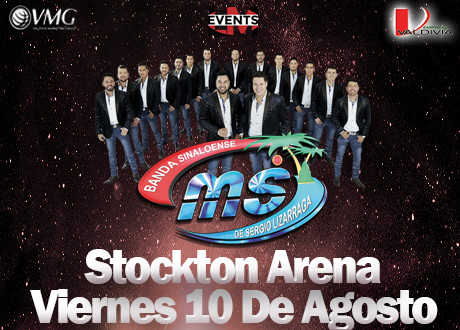 Banda MS at the Stockton Arena
This event has already taken place, but here is the past event information
See one of Mexico's major pop-music performers perform at the Stockton Arena!
Youth, versatility, explosiveness and talent are the words that define MS band. With firm goals the band started with 15 members and always with the purpose of shining with its own light and achieving to transcend. Today, MS band has taken very big steps and an extremely successful band. Their first album made their debut in 2004 titled "No Podrás." A year later, they released their album titled "Mi Mayor Anhelo," whose first single was #1 in radio stations in Sinaloa and in the American Union, and was even awarded as "The Best Theme of the Year."
Juventud, versatilidad, explosividad y talento son las palabras con las que se define banda sinaloense MS. Con metas firmes la banda inició con 15 integrantes y siempre con el propósito de brillar con luz propia y lograr trascender. Hoy en día, banda MS ha dado pasos muy grandes y lejos de ser una banda exitosa. Su primer disco hizo su debut en el año 2004 titulado No Podrás. Un año después, lanzan el álbum titulado Mi Mayor Anhelo, cuyo primer sencillo fue la canción que se colocó en los primeros lugares en las estaciones de radiales en Sinaloa y en la Unión Americana, e incluso fue premiada como "El Mejor Tema del Año".
Tickets:
$147, $127, $97, $82 & $52 (additional fees may apply)
Order your tickets online or at the Stockton Arena box office!
Enjoy a bite to eat before or after your Stockton Arena event at one of these nearby Downtown Stockton restaurants!
Location:
Stockton Arena
Time:
8:00 PM to 10:00 PM
248 W Fremont St
Stockton, California
Built in 2005, the 10,000 seat Stockton Arena is located on the Downtown Stockton Waterfront adjacent to the Stockton… More Info