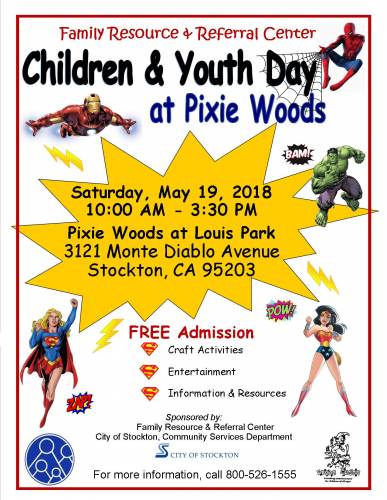 Children and Youth Day at Pixie Woods
This event has already taken place, but here is the past event information
Enjoy free admission at Pixie Woods!
Calling all Superheroes! Enjoy free admission to the 38th annual Children and Youth Day. It's going to be a fun day of activities, games and entertainment. Community resource agencies and local businesses will also be on hand to spotlight their services. Sponsored by Family Resource and Referral Center and the City of Stockton. Come dressed as your favorite superhero!
For information regarding participation as an exhibitor booth, contact Lupe at 209-461-2624.
Pixie Woods is Stockton's own fairyland for the "young in age and the young at heart!" Pixie Woods is an enchanted forest with magical pathways for children of all ages! All who enter the rainbow gates are transformed into a world of imagination, wonder, and play. Pixie Woods began as a dream and became a reality in 1954 through the generosity of many local businesses, organizations, and individuals. Over one million visitors from all 50 states and other countries have journeyed through its rainbow gates. Ride the Pixie Express Train down the tracks past Frontier Town. Take an excursion down the lagoon on the Pixie Queen paddle-wheel boat, or, take an exciting ride on a vintage carousel. The Pixie Woods map provides information about attractions in the park. Pixie Woods was created and is sustained by generous community donations.
2018 Season Hours
All hours and events are weather permitting.
2018 Calendar of Events
Location:
Pixie Woods @ Louis Park
Time:
10:00 AM to 3:30 PM
3121 Monte Diablo Avenue
Stockton, California
As seen on Huell Howser's "Road Trip." Pixie Woods Amusement Park is Stockton's own fairyland for the "young in age and… More Info