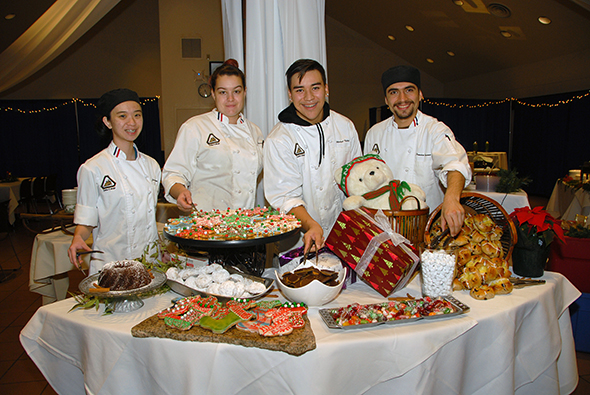 Delta Culinary Arts Winter Feast
This event has already taken place, but here is the past event information
Thanksgiving is over…but the holiday feasts are just getting started! Join Delta College's Culinary Arts Department as they present their Annual Winter Feast Scholarship Dinner.
This year's flavorful theme: Italian!

"Our fundraiser will send Delta College Culinary Arts students to Italy to study Italian heritage food and wine," said culinary arts instructor Mark Berkner. "Delta's Culinary Arts Foundation sent three students to study abroad with the Marco Polo Institute for Mediterranean Culture and Tourism last summer. This 17-day trip included courses at four different culinary schools from Anzio to Asti. This is tremendous learning experience for our students," emphasizes Berkner. "They will see the world beyond Stockton and realize their full potentials in culinary arts."

Chef Berkner points out that the cost for each student is $4900. Delta's non-profit Culinary Arts Foundation hopes to grow the number of students they can send on Marco Polo Institute Study Abroad Italian Scholarships. Proceeds from this year's Winter Feast-Italian will aid those educational efforts.

The Annual Winter Feast is considered one of Stockton's culinary gems. Winter Feast student teams develop a menu within a theme and create stations where they serve their culinary creations. This buffet style dinner is lively, abundant and flavorful. It provides an opportunity for attendees to interact with students as they share their culinary talents. Wine and beer appropriate to the feast theme will be available at the no-host bar. Live music and a silent auction are also featured at this evening of friends, food and fun!

Support Culinary Arts education at Delta College! See you at Winter Feast-Italian!
Tickets:
Tickets only $65 each! Support Delta College Culinary Arts!
To purchase tickets, purchase them online (additional fees may apply online!) or contact Brittney Howard: bhoward@deltacollege.edu, 209-954-5099.


Winter Feast-Italian Menu

Hors D'oeuvres
Blue Cheese Mousse - fresh radish and chervil on toast points
Smoked Salmon - cucumber, wasabi sushi rolls
Grilled Eggplant Pinwheels - red and yellow peppers, goat and herbed cream cheeses
Shrimp and Scallop Cakes - fresh scallions, ginger, soy sauce topped with siracha aioli
Gorgonzola Tartlets - caramelized onion , bacon and fresh thyme

Seafood Bar
Whole Poached King Salmon- beautiful display with cucumber and fresh dill yogurt sauce
Bay Shrimp Cocktail - classic cocktail with crisp lettuce and horseradish sauce
Fresh Pacific Oysters - served on the half shell with lemon or shallot mignonette
Oysters Rockefeller - baked oysters topped with fennel, spinach, and parmesan bacon mousse
Ahi Tuna Poke Parfait - layered with fresh avocado and mango

Tapas
Paella Seafood - watch students prepare classic paella, vegetarian option available
Potato Croquettes - crispy delights with Manchego cheese and smoked Spanish paprika sauce
Lamb Meatballs - baked with rosemary and shallots topped with sundried tomato pesto &
feta cheese Paprika Garlic Prawns - sautéed wild black tiger prawns with savory saffron sauce

Smoke House
Pulled Pork Sliders - slow roasted pork shoulder served with sweet rolls & zesty Siracha Mayonnaise
St Louis Pork Spare Ribs - cooked in our Smoke Shack smoker 5 hrs., offered with 2 different sauces
House Made Smoked Sausages - Assorted Mustards & Pickles Chili Beans Potato Salad

Pasta Station
Prepared to order by the students!
Potato Gnocchi, Cavatapi Pasta and a Gluten Free Option with your choice of Marinara, Roasted Garlic or Pesto Sauces Fresh Herbs, Tomato, Squash, Mushrooms, Sausage, Garlic, Red Onions, Parmesan Cheese

Rice Bowl Station
Korean style beef, chicken or tofu, steamed rice, pickled red onion, carrots scallions and cilantro topped with hoisin sauce

Carving Station
Slow Roasted Prime Rib of Beef - offered with au jus, horseradish sauce or gravy
Grilled Leg of Lamb - Dijon, herbs and mint sauce
Whole Roast Pig - prepared in the style of Porchetta rubbed with fennel seed, garlic & rosemary, organic carrots, spinach, Brussels Sprouts & Potato Gratin

Cajun Station
Chicken & Sausage Gumbo - prepared with andouille sausage, chicken, okra and love
Blackened Salmon - fresh spinach and Hollandaise sauce Red Beans & Rice Corn Bread

Dessert Station - Baking and Pastry Class Extravaganza!
Don't miss the sweet selection of chef Halabicky and his students as they take over the lower section of Danner Hall and transform it into a pastry wonderland!
Pumpkin Roulade, Pecan Pie, Cheesecake, Yule Log, Chocolaté Pot de Creme, Bread Pudding and Whiskey Sauce, Cookies, Ice Creams, Spice Cakes, and much, much more.

Location:
Danner Hall @ San Joaquin Delta College
Time:
5:30 PM to 8:00 PM
5151 Pacific Ave
Stockton, California