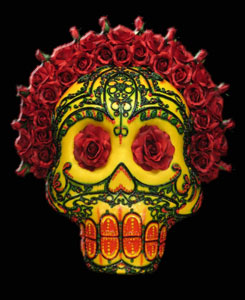 Dia de los Muertos at the Mexican Heritage Center
This event has already taken place, but here is the past event information
Check out the annual Day of the Dead art exhibition at the Mexican Heritage Center!
The Mexican Heritage Center and Gallery will be holding its annual Dia de los Muertos exhibit October 10th – November 4th. Dia de los Muertos is a cultural celebration dating back to the early Aztecs. During this time we celebrate the lives of those that have gone before us. Altars or ofrendas are made for loved ones, family members, and friends that have died. We celebrate their lives and remember them in death. The center will be filled with art and ofrendas.
There will also be a very special reception on Friday, October 20th.
Hours:
Tuesday-Saturday, 12:00pm - 5:00pm
Admission is free.
The Mission of the Mexican Heritage Center and Gallery is to educate and promote culture and art for current and future generations. The Center has been a pioneer in bringing Latino art to the community. It enhances cultural awareness in the community and provides a forum for Latino artists to exhibit art which reflects their heritage. Throughout the year, the MHC&G offers quality art exhibits that showcase Latino art and celebrations. The MHC&G is a 501 (c) (3) non profit organization which continues to grow with supporters from throughout the Valley.
Location:
Mexican Heritage Center & Gallery
Time:
12:00 PM to 5:00 PM
111 S. Sutter Street
Stockton, California
The Mexican Heritage Center is an exhibition gallery where visitors and the community can enjoy the Mexican culture… More Info