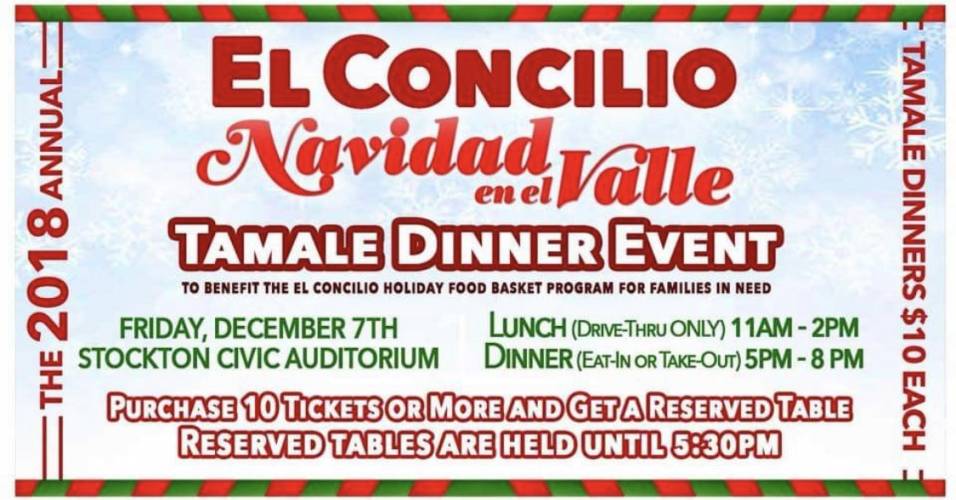 El Concilio's Annual Tamale Dinner "Navidad En El Valle" Fundraiser
This event has already taken place, but here is the past event information
This very popular annual holiday Tamale fundraiser features entertainment and even a drive-thru!
This event has become an annual kick-off to the wonderful Christmas season. The colors, sounds and delicious food are sure to get you into the holiday spirit.
Delicious tamale meals are only...$10 per meal! Each Tamale dinner plate includes 2 tamales, mexican rice and beans and salad for $10 dollars and 100% of the profits go to provide food baskets for families in need during Christmas. Please come and support us! Enjoy the lunch drive thru, or come by for dinner with free entertainment for the community at the Civic Center Auditorium in Stockton.
Schedule:
Lunch Drive-Thru Only - 11am to 2pm
Dinner and Evening Event Festivities - 5pm to 8pm
Location:
Stockton Civic Memorial Auditorium
Time:
11:00 AM to 8:00 PM
525 N Center St
Stockton, California
Events are all about the location, and the Civic Auditorium is an ideal location for events. Located in downtown… More Info