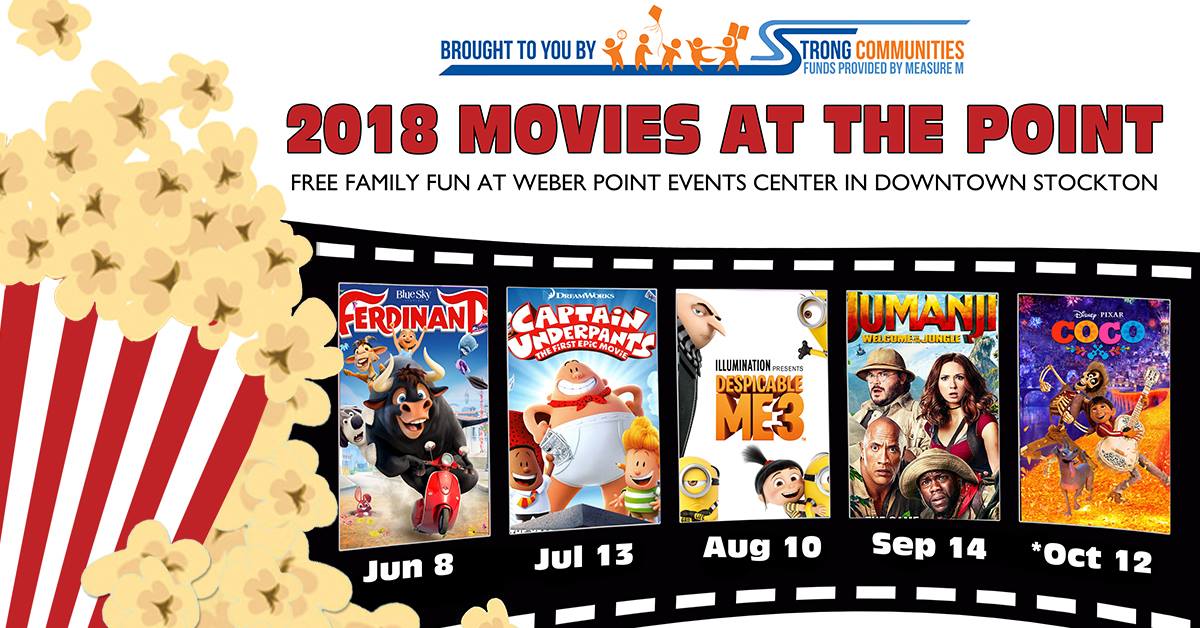 Movies at the Point & October Spooktacular Event: "Coco"
This event has already taken place, but here is the past event information
Gather your blankets, chairs, dinner, and snacks, it's FREE outdoor movie series time at Weber Point!
The City of Stockton Community Services Department offers Stockton residents and visitors a series of fun and free film viewings on beautiful summer and fall evenings in Downtown Stockton. Enjoy an evening watching a movie at the Weber Point Event Center with family and friends! These free films are projected onto the canopy at Weber Point Event Center on the second Friday of each month, starting in June and running through October. Help strengthen our community with positive, family-friendly films and strengthen neighborhood awareness!
Titles are subject to change; cancellations may occur due to weather conditions.
Gates open at 6:30 PM; feature film starts at dusk.
Concession foods will be available for purchase; no alcohol permitted.
Schedule of 2018 Movies at the Point:
June 8: "Ferdinand"
July 13: "Captain Underpants"
August 10: "Despicable Me 3"
September 14: "Jumanji"
October 12 (Spooktacular Event): "Coco"
Have a question about this event? Check out this list of Frequently Asked Questions
Location:
Weber Point
Time:
5:30 PM to 9:30 PM
221 N Center St
Stockton, California
A star downtown attraction, the Weber Point Events Center is rented throughout the year for festivals, concerts and a… More Info