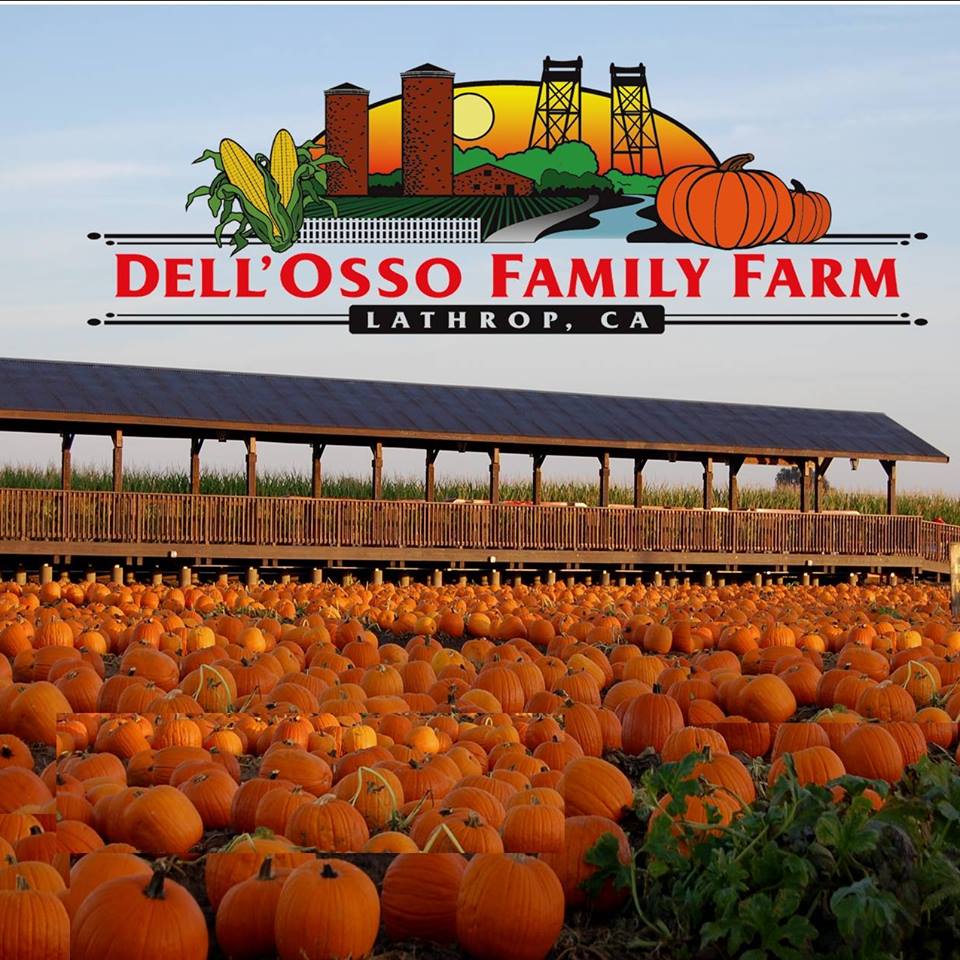 Pumpkin Maze at Dell'Osso Family Farm
Next Upcoming Date: Sunday, Sep 29 2019
Getting lost is the fun of it! Come on out for the Dell'Osso Family Farms' 23rd annual Pumpkin Maze! Happy Halloween!
California's biggest agri-tourism event — the Dell'Osso Farms Pumpkin Maze —celebrated its 3 millionth visitor in 2017!
Open Sunday, September 29, 2019 through Thursdsay, October 31, 2019
Open Daily at 10:00 a.m. Last entry in gate at 8:00 p.m. All visitors entering the parking lot by 8:00 p.m. will have admittance to the attractions. Attractions begin shutting down at 9:00 p.m.
Dell'Osso Farm was founded in the 1920's by three brothers from Italy who started farming asparagus. Rudy Dell'Osso, the son of one the original brothers, took over the farm in the 1950's and diversified into growing tomatoes, beans and alfalfa. In the mid 1970's, Ron Dell'Osso, Rudy's son, joined the business and added pumpkins, melons and sweet corn to the crop rotation. In 1997, Ron and his wife Susan, started the first Corn Maze and the Halloween event has grown into a Haunted House, Pumpkin Blaster and much more. The Dell'Osso Family Farm October event has grown into one of the most popular Halloween season destinations in the nation, with close to 125,000 people visiting the site each October. The event still remains a family operation, with the entire Dell'Osso family participating. We hope your family will enjoy our farm as much as we do.
General Admission:
All tickets are sold on premises only. Must pay General Admission to enter the farm. Parking is always free!
Early Bird (entry before 2pm) Monday-Friday: $11.95 per person, must be present, no advance purchases
Monday-Thursday after 2pm: $14.95 per person
Friday after 2pm or All Day Saturday & Sunday: $18.95 per person
Children 2 yrs and under any day and all times: Free
General Admission includes:
Corn Maze, 5,000 sq ft Haunted Castle, Dell'Osso Express Train, Hay Ride, Mystery Tour, Giant Pumpkin Ball Races, Scarecrow Ride, Tire Pyramid, Dell'Osso Speedway, Animal Zoo, Ball Shoot Arena, Lawn Games, Walk the Plank, Super Slide, Kiddie Play Land, Kiddie Ferris Wheel, Kiddie Swings, Spinning Pumpkins, Pillow Jumping, Children's Interactive Pirate Show, Pig Races & Entertainment.
New attractions this year include: The New Rat Rollers, the New Goat Walk by our Animal Pens and Horse Corals, and the NEW Cider Hill with elevated view surrounded by water serving Hard Cider, Beer and Wine.
Attractions not included with General Admission (Tickets available at specific attraction):
Gem Mining in an Old Western Town: $6
Pumpkin Blasters: $6. The World Famous Pumpkin Blaster that shoots mini pumpkins at 100mph!
Zip Lines: $8/$12
Pony Rides: $7
Pumpkin Painting $5
Food, Merchandise, pumpkins and seasonal gifts are available for purchase (not included in general admission).
Happy Halloween!
Location:
Dell'Osso Family Farm
Time:
10:00 AM to 8:00 PM
501 S. Manthey Road
Lathrop, California
Upcoming Dates
Sunday, Sep 29
Monday, Sep 30
Tuesday, Oct 1
Wednesday, Oct 2
Thursday, Oct 3
Friday, Oct 4
Saturday, Oct 5
Sunday, Oct 6
Monday, Oct 7
Tuesday, Oct 8

Dell'Osso Family Farms was founded in Lathrop in the 1920's by three brothers from Italy who started farming asparagus.… More Info