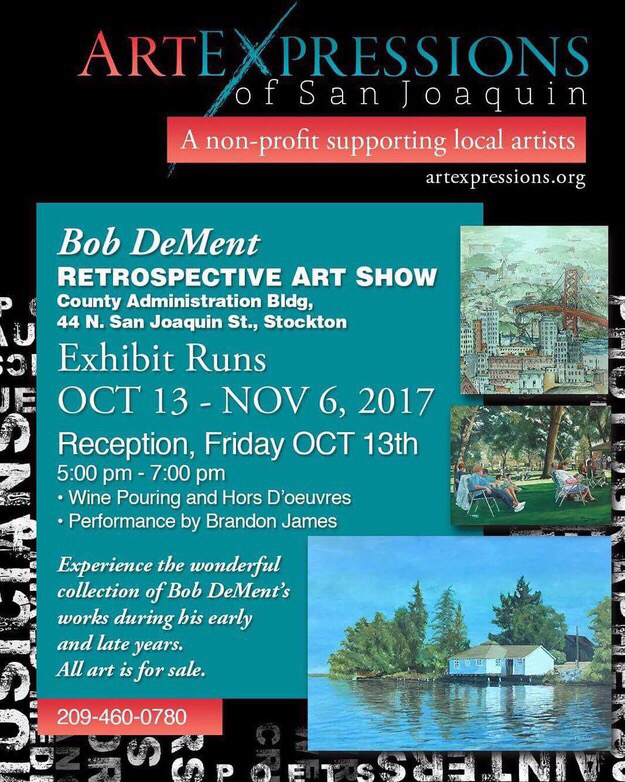 Stockton Arts Week: Art Retrospective Show
This event has already taken place, but here is the past event information
Stop by for wine and hors d'oeuvres, stay to admire and purchase works by Bob DeMent.
Also featuring a live performance by local musician and singer/songwriter, Brandon James. All art is available for purchase.
Exhibit opens Oct 13 and runs through Nov 6- Monday thru Fri 9am- 5pm.
Stockton Arts Week is a 10-day celebration of our community's diverse arts and cultural offerings running October 13-22, 2017. This city-wide event highlights the vibrant art and culture Stockton has to offer by featuring 10 days of creative arts related events, such as: art walks, exhibitions, paint nights, demonstrations, performances, workshops, and much more! Stockton Arts Week is organized by Visit Stockton. Learn more about Stockton Arts Week and see a schedule of more official events here!
Time:
5:00 PM to 7:00 PM
44 N. San Joaquin Street, San Joaquin County Administration Building
Stockton, CA
The mission of Art Expressions of San Joaquin is to share the arts of the San Joaquin Valley and promote the artists that… More Info