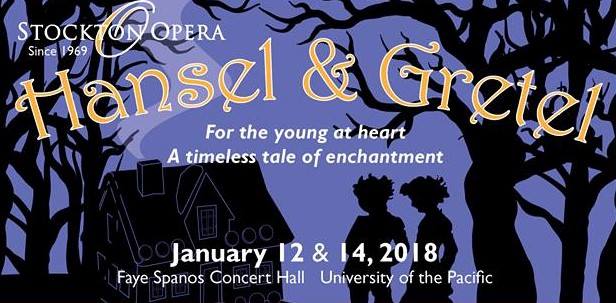 Stockton Opera presents Hansel & Gretel
This event has already taken place, but here is the past event information
Enjoy a night at the opera in Stockton!
The story of Hansel & Gretel is based on the famous fairy tale published by Brothers Grimm; this production will be in English. Engelbert Humperdinck's score is beloved for its Romantic-style charm and tunefulness.
It's great for the whole family, young and old. For those who have never seen an opera before, the show provides a fabulous and entertaining introduction to the medium. And faithful and experienced opera lovers will be delighted by the same high quality they've come to expect, with Producing Stage Director James Haffner, Music Director Peter Jaffe, vivid costumes, sets, and lighting, youth and women's choruses, and an all-professional ensemble of instrumentalists and lead characters.
Brilliant mezzo-soprano Kate Tombaugh is making her Stockton Opera debut with this production, singing the role of Hansel. The rest of the stellar cast features engaging artists already familiar: bubbly soprano Rachel Schutz (Susanna in Marriage of Figaro, Adele in Die Fledermaus) returns as Gretel, and commanding baritone Matt Hanscom (Falke in Die Fledermaus) returns as the Father. With her rich mezzo-soprano voice, Buffy Baggot (Verdi's Requiem with Stockton Symphony) returns to Stockton to portray the Mother, and the role of the Dew Fairy will be sung by another local favorite, soprano Liisa Dávila.
Opera buffs know there's an established tradition of some characters being sung as "pants roles"—a male character in the story is sung by a female singer. One might think of Cherubino in The Marriage of Figaro, Count Orlovsky in Die Fledermaus, or in the present case, Hansel—these male characters are almost always sung by a mezzo-soprano.
And this production is doing the reverse, too! Donovan Ott-Bales, with his powerful tenor voice and comedic flair, will return to play the role of the Witch—what a riot!
So, what happens when we give those traditions a double whammy? Usually the male character of the Sandman is sung by a soprano and is hence a "pants role," yet we're reversing the tradition. Another local favorite, tenor Ric Campero, will sing the cameo role, hence, as a rare treat, you can see and hear the character actually sung by a man!
It's all in elegant fun—we'll see you at the opera!

For more details about the performers or to find out how you can support the Stockton Opera, go to www.stocktonopera.org
Performances:
Friday, January 12 at 7:30 pm
Sunday, January 14 at 2:00 pm
The performance will have one intermission. Parking is free on campus; street parking is nearby.
Admission:
Tickets available at the Stockton Symphony Box Office at 4629 Quail Lakes Dr, Stockton, CA 95207 in person, by phone 209-951-0196, or on the Stockton Symphony website.
Location:
Faye Spanos Concert Hall @ University of the Pacific
3511 Pacific Ave
Stockton, California