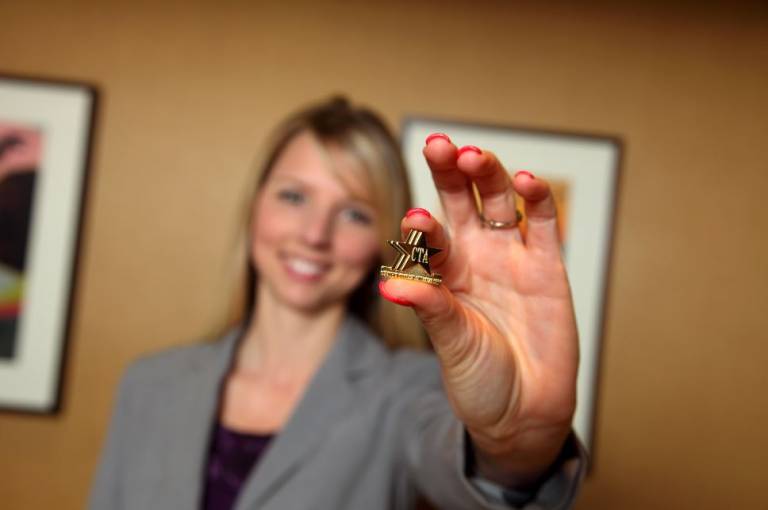 Stockton Ambassador Program
Earn the nationally recognized Certified Tourism Ambassador (CTA) designation and help ensure each and every visitor has the best experience possible while visiting Stockton.
Do you love our city? Help spread the word!
The Stockton Ambassador Program is a dynamic national certification program that certifies community members as Certified Tourism Ambassadors™ (or CTAs). As an Accredited Provider, Visit Stockton presents the official CTA designation on behalf of the Tourism Ambassador Institute®, the national oversight body for the certification program. This program brings together employees in the hospitality industry, local volunteers, and community members to learn about Stockton history, events, attractions, dining, and more in order to positively impact our local economy by ensuring each and every visitor has the best experience possible while visiting our city. When visitors have a positive experience in Stockton they are more likely to return in the future and also share their experience with others. This training helps ensure that we convey consistency in message, accuracy in details, and a high level of hospitality throughout the Stockton area. While the program's focus is on the hospitality industry, the Stockton Ambassador Program is useful to anyone who interacts with customers seeking more information on Stockton including realtors, hospital employees, government employees, retail employees, educators, volunteers, and more. The general public is always welcome!
To date we have certified over 600 Stockton Certified Tourism Ambassadors™! Invest in your professional development and earn your nationally recognized CTA designation in this compelling, interactive four-hour class followed by an open book test. This prestigious designation will follow you throughout your career as you renew annually by attending key Stockton events and networking with your peers. Enroll today and bring a friend.
Program Requirements
Stockton Ambassador certification is open to anyone who lives or works in the Stockton area and the greater Stockton area (San Joaquin County - Lodi, Manteca, Lathrop, French Camp, Escalon, Linden, Lockeford, Ripon, Tracy, Farmington, Acampo, Thornton, Waterloo, Morada). You must live or work in this area in order to be eligible for this program.
Every certification program requires successful completion of a core curriculum. Upon successful completion, participants will earn the Certified Tourism Ambassador™ designation and receive a CTA certificate and lapel pin. The following recaps the requirements to earn the CTA designation:
Complete required reading and learning assignments: 150-page Pre-Class Binder is sent to you 2 weeks prior to class
Attend 4 hour interactive classroom session
Complete open-book examination at the end of class
An annual renewal process is also necessary to maintain your CTA certification. Once you become a CTA, you earn points for every CTA event you attend as well as for local attractions and events visited. CTAs must earn 50 points within a year and submit a $15 renewal fee. Gaining your points is easy and we offer lots of fun mixers and events as opportunities to earn those points often. Pictured below is one of our CTA mixers at The Fruit Bowl in Stockton!
Program Curriculum
Module 1: The Power of Tourism
Module 2: Discovering Stockton & Our Region
Module 3: Knowing, Finding, Using Resources
Module 4: Exceeding Customer Expectations
The curriculum is delivered through the Pre-Class Binder and in-class activities.
Benefits
There are many benefits to becoming CTA certified.
Provides a meaningful credential that is visible to visitors, co-workers, friends and family
Exclusive CTA mixers, fun events, and networking opportunities

Past events include: tour and mixer at The Fruit Bowl (pictured above), night out at the Stockton Heat, tour and talk at the San Joaquin County Historical Society & Museum, annual CTA Delta Cruise with Opportunity Cruises, tasting at Channel Brewing Company, and more!

Exclusive CTA freebies and discounts
Monthly email newsletters keep you "in the know" of all things Stockton
Builds valuable skills for a lifetime
Career advancement
Increased business, higher tips
2019 CTA Classes & Registration
You need only take one class to become certified as a Stockton Certified Tourism Ambassador. Please enroll no later than 2 weeks prior to class. Certification classes are held every other month.
Registration is $25. Registration is completed online (see the steps below).
Upcoming Classes in 2019:​​
Wednesday, February 6, 2019 from 8:30am-12:30pm @ Courtyard by Marriott Stockton
Wednesday, April 10, 2019 from 8:30am-12:30pm @ Hilton Stockton
Thursday, June 13, 2019 from 8:30am-12:30pm @ TBA
Thursday, August 15, 2019 from 8:30am-12:30pm @ Haggin Museum
Wednesday, October 16, 2019 from 8:30am-12:30pm @ University Plaza Waterfront Hotel
2 Steps To Register:
To signup for a certification class, first go to www.CTANetwork.com, click "Become a CTA" and "Sign up". Choose the Stockton region, select your desired class date, and fill out the form as requested.

When you reach the payment screen, there are two options.

You can select "Pay By Check" and then make a check out to "Visit Stockton" and send it to our mailing address at PO Box 2336, Stockton, CA 95201.

Or you can choose "Pay By Other Method" and either submit your payment separately through Visit Stockton's online Square account here or by calling Visit Stockton at (209) 938-1555 to submit your payment over the phone.

However you choose to pay, select an option in the dropdown and then submit and finalize the registration form on CTANetwork.com.
Questions?
Contact Visit Stockton's CTA Program Coordinator, Megan Peterson, at 209-938-1555 or megan@visitstockton.org.
---
CTA Payment Links
Pay Your Annual CTA Renewal Dues - For current CTAs
Pay your CTA Registration Fees - For new CTAs (NOTE: Please note this is a 2 step process. You must first go online to CTANetwork.com to fill out the registration form and then you can pay your registration via this link!)