Search Blogs
10 Must-Go Events for Stockton Arts Week 2018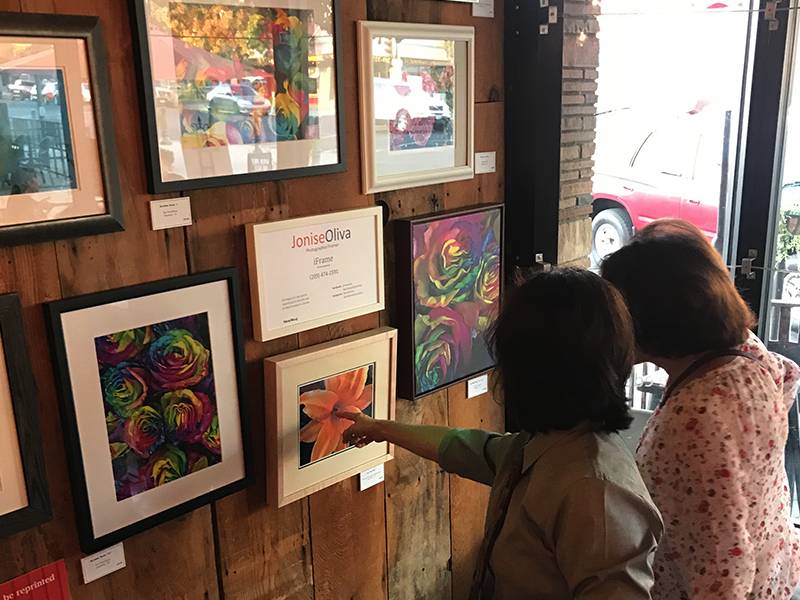 Stockton Arts Week is a celebration of our community's diverse arts and cultural offerings. This year, more than 50 events will take place over 10 days at locations throughout Stockton.
The long-awaited Stockton Arts Week returns October 12-21, 2018. During this 10-day celebration, Visit Stockton has connected organizations and local artists with local venues and encouraged them to provide arts activities and educational opportunities throughout the Port City. By blending culture and community, Stockton Arts Week aims to encourage the artistic collaboration of a wide spectrum of participants. Throughout the week visitors and locals can see art on display, participate in art and dance demonstrations, listen to great music, and more. Join us as we gather to celebrate the lifeblood of a city dedicated to the arts.
Here is an example of what to do each day of Stockton Arts Week 2018, but don't stop here. Check out the full listing of events at StocktonArtsWeek.com and follow the official Facebook page for updates.
Friday, October 12: Stereotypes at the Haggin Museum
Engage with rock bands inside the Haggin Museum's art galleries, while you contemplate on interactive visual art and photography. Goodstock Production, in collaboration with the Haggin Museum, is challenging stereotypes by bringing together a night of entertainment, art, and unique experiences.
See more events happening on October 12.
Saturday, October 13: Meet the Commission
Meet the Stockton Arts Commission, a group of individuals with strong links in the Stockton arts community, held at J. Rusten Furniture Studio located in downtown Stockton. This one-night event presents an opportunity to meet and mingle with the all-volunteer Commission in an informal setting.
See more events happening on October 13.
Sunday, October 14: Friends of the Fox present "King Kong"
Experience a classic movie inside the Historic Bob Hope (Fox) Theatre. Friends of the Fox will present 1933 classic adventure "King Kong," This is treat for the eyes and ears, as you are take a trip back in time to when the movie was originally screened. Show starts promptly at 2 pm, but arrive an hour early for local art, wine, snacks, and music in celebration of the film showing.
Bonus: The Bob Hope Theatre will celebrate its 88th anniversary on this day with a birthday cake cutting.
See more events happening on October 14.
Monday, October 15: ANNIE Rehearsal
Witness a short 30-minute sneak peek rehearsal of the crowd-pleasing musical ANNIE. Watch them sing and dance under the direction of Dennis Beasley and Sarah Spenker, during this special one-night, free viewing!
See more events happening on October 15.
Tuesday, October 16: Romantic Dancing
Dance the night away in this beginner's romantic dance demonstration at Arthur Murray Dance Studio. In this session, you will play with the fundamentals of romantic dance styles and techniques for couples to enjoy.
See more events happening on October 16.
Wednesday, October 17: Erin Elizabeth Art Exhibition: Rose, Earth, Tribe
Relieve some stress and immerse yourself into rhythms of color, music, and movement, while you view the works of art by Erin Elizabeth, happening at Define Barre & Fitness. You will appreciate the complimentary wine and live Peruvian drumming and performances happening during the art exhibit. A portion of all rose painting sales on this night are donated to support University Park World Peace Rose Garden.
See more events happening on October 17.
Thursday, October 18: Collide
Participate in the 2nd Annual Collide in downtown Stockton, which features three days stocked full of visual art, creative placemaking, and an opportunity to engage with like-minded artists at Janet Leigh Plaza. The event features chalkboards for interactive community art, an adult ball pit to network and lively local bands, celebrating the diverse talent in Stockton.
See more events happening on October 18.
Friday, October 19: Showbiz Theatre Company presents "The Rocky Horror Show"
Let's do the Time Warp again this Stockton Arts Week! Once again this year, Showbiz Theatre Company bring back the cult classic musical sensation, the Rocky Horror Show. Make sure to rehearse your callback lines, purchase your prop bags and wear your best Rocky Horror attire because the cast encourages full audience participation during this performance.
See more events happening on October 19.
Saturday, October 20: In Conversation with Mick LaSalle
Join Mick LaSalle and the Director of Community Services of Stockton, John Alita, as they have a conversation about films, acting, and directing at the Ceasar Chaves Library. Mick LaSalle is a well-known film critic for the San Francisco Chronicle, producer, and author of two books on pre-censorship Hollywood.
See more events happening on October 20.
Sunday, October 21: Collide Finale
And finally, wrap up Stockton Arts Week at Weber Point Events Center. In collaboration with The City of Stockton and Goodstock Productions, this finale festival wraps up the 10-day arts and culture celebration with artist workshops, hands-on children activities, gourmet food trucks, beer garden, and a visual art competition. Be sure to stay of Stockton's first-ever Drone Light Show happening at dusk! See more events happening on October 21.
Have a question about Stockton Arts Week? You can text us 7 days a week, 8am to 8pm at (877) 778-6258 and you'll receive a live response from a member of our team. Stay social with Visit Stockton on Facebook, Twitter, and Instagram.