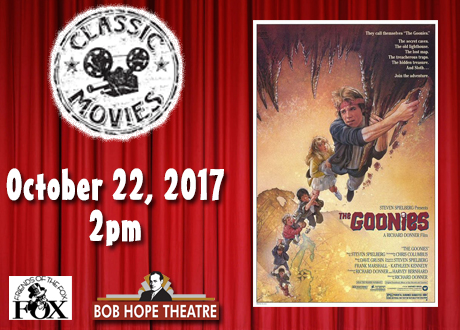 Stockton Arts Week: Friends of the Fox present "The Goonies"
This event has already taken place, but here is the past event information
Friends of the Fox present 80's classic "The Goonies" as a part of their Classic Movies Series!

The Goonies are a group of friends living in a village, the groups leader Mikey Walsh, his older brother Brand and gang members Andy, Data, Stef, Mouth, and Chunk are being evicted from their homes which are to be demolished. Setting out to find a way of saving their homes, The Goonies find a treasure map and they set off in search for the treasure of the legendary pirate One-Eyed Willy which is located beneath a abandoned restaurant. Joined by a deformed gentle giant named Sloth, The Goonies embark on a great adventure through a underground maze filled with traps and skeletons, where they are pursued by Sloth's mother, thief Momma Fratelli and his brothers Jake and Francis who are also after One-Eyed Willy's treasure and they willing to get the treasure first.
Release date: June 07, 1985
Showtime is 2:00pm. Don't forget to arrive at the theatre an hour early at 1:00pm for an hour of art, wine, snacks and music in celebration of the feature film!
Complimentary water/wine/soda/snacks are included.
Tickets:
$4 - $8 (additional fees may apply)
Tickets available at the Bob Hope Theatre on the day of the film with no additional fees. Bob Hope Theatre Box office opens at 1:00pm. Or buy your tickets in advance online or at the Stockton Arena box office!
Stockton Arts Week is a 10-day celebration of our community's diverse arts and cultural offerings running October 13-22, 2017. This city-wide event highlights the vibrant art and culture Stockton has to offer by featuring 10 days of creative arts related events, such as: art walks, exhibitions, paint nights, demonstrations, performances, workshops, and much more! Stockton Arts Week is organized by Visit Stockton. Learn more about Stockton Arts Week and see a schedule of more official events here!
Location:
Bob Hope Theatre
Time:
1:00 PM to 4:00 PM
242 East Main Street
Stockton, California
The Bob Hope (Fox California) Theatre in Downtown Stockton, built in 1930, was one of only two "movie palaces" in the… More Info