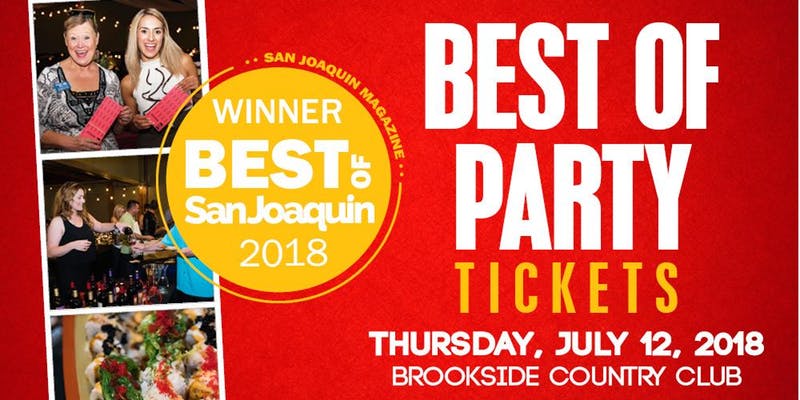 San Joaquin Magazine's Best of Party
This event has already taken place, but here is the past event information
Don your best dress and join the fun! Enjoy music, entertainment, and dancing as we honor the local business owners and entrepreneurs who color the San Joaquin!
San Joaquin magazine's Best of San Joaquin July issue is the most anticipated edition of the year. In conjunction with this issue, we celebrate and in honor of the 12th anniversary of Best of San Joaquin, the legendary Best of San Joaquin PARTY® event returns. This exclusive event brings together over 1,500 of the area's best, including San Joaquin magazine VIPs, Best of Winners, local wine makers and tastemakers, and celebrity chefs. The evening features live music, delicious food and wine served by more than 25 past & current Best of San Joaquin Magazine® winners, and one of a kind experiences.
Grab your online before they're gone!
Tickets:
Buy your tickets online now!
Location:
Brookside Golf and Country Club
Time:
5:30 PM to 10:30 PM
3603 St. Andrews Dr
Stockton, California
Everyone has them... Staff Retreats Client Appreciation Events Retirement Celebrations Employee Picnics Seminars Trade… More Info