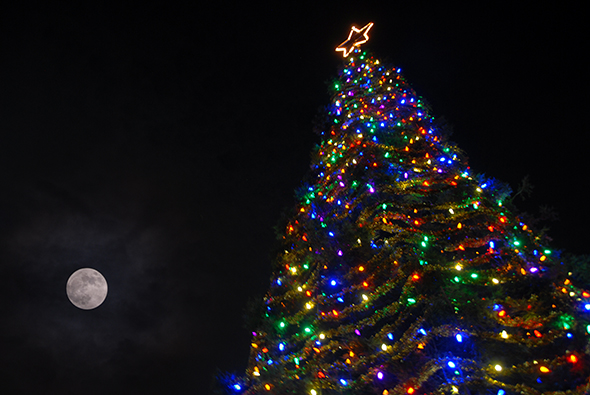 Annual Hospice of San Joaquin Tree of Lights Lighting Ceremony
Date: Tuesday, Nov 19 2019
The community is invited to join with family and friends to memorialize loved ones or to recognize the people who have impacted their lives by dedicating a light on the Tree of Lights!
Every October through December, Hospice of San Joaquin hosts the annual Tree of Lights all throughout San Joaquin County. All are welcomed to buy and dedicate a light to memorialize a loved one no longer with us or to honor a person who holds a special place in your heart. Your donation to San Joaquin Hospice will light up our Tree of Lights and support the agency's programs of nursing care and bereavement services for terminally ill patients and their families.
The Stockton tree is located at San Joaquin Delta College and features a lighting ceremony often times with live singing and holiday entertainment. The first memory boards are posted the evening of each tree lighting ceremony.
To dedicate a light in honor or memory of a loved one or colleague call 209-957-3888 or donate online!

Donation Amounts:
Red $5
Green $10
Blue $25
White $50
Yellow $100
Purple $250
Orange $500
Treetop $1,000
In addition to the Delta College tree, 8 trees in total will be lit all throughout San Joaquin County between November and December. The lighting ceremonies are made possible by partnerships between Hospice of San Joaquin with government, nonprofit agencies, businesses and community members. Each Tree of Lights is independently arranged and lit with the warmth of each community.
Location:
Corner of Pacific Ave and Yokuts @ San Joaquin Delta College
Time:
6:00 PM to 8:00 PM
5151 Pacific Ave
Stockton, California