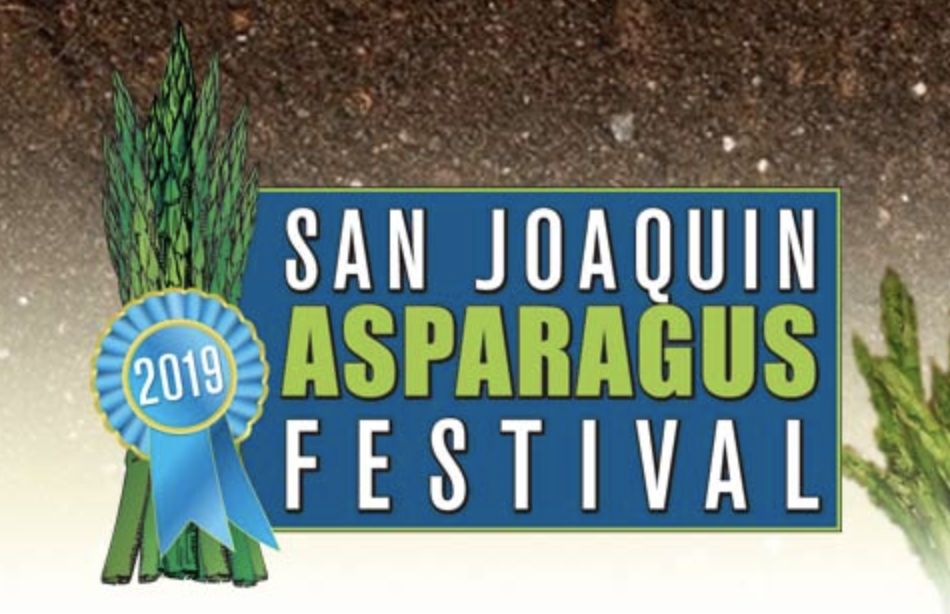 San Joaquin Asparagus Festival
Next Upcoming Date: Friday, Apr 12 2019 to Sunday, Apr 14 2019
Visit Stockton this April 12-14, 2019 for the BIGGEST Asparagus Festival in the West!
With a fantastic lineup of events and entertainment, the San Joaquin Asparagus Festival is sure to be an enjoyable time for the entire family! The San Joaquin Asparagus Festival offers everything from food to fun. Bring your family and friends and enjoy Asparagus Alley (Deep Fried Asparagus & Asparagus Ice Cream), Health & Wellness Fair, Local Celebrity Chef Demonstrations, Car Show, Craft Beer and Wine Pavilion, Kids Zone with carnival rides and games, Petting Zoo and so much more!
Dates & Hours:
Single Day Admission Prices:
TBA
Parking: $6.00 for vehicles and $3.00 motorcycles.
NO ONLINE TICKET SALES.
Discount tickets will be sold at Save Mart and Lucky Stores in the surrounding areas TBA. Click here for a list of stores.
Main Stage Entertainment:

Friday: TBD

Saturday: TBD
Sunday: TBD
Activities:
Asparagus Alley, Asparagus Plaza, Kids Zone, Health & Wellness Fair, Asparagus Recipe Competition, Community Stage, Local Celebrity Chef Demonstrations, Carnival Midway, Craft Booths, Hundreds of Vendors, Superheroes 5K Run, Deep Fried Asparagus Eating Competition and much more!
Tickets:
**Deep Fried Asparagus, Asparagus Ice Cream, Beer, Soda & Water will require you to purchase food & beverage tickets.
Each ticket will be $1 each and can be purchased in several different locations at the festival. (All food & drink vendors may accept tickets)

Deep Fried Asparagus - 7 tickets
Ranch Dip - 1 ticket
Asparagus Ice Cream - 3 tickets
Soft Drinks - 3 tickets
Bottle Water - 3 tickets
Beer - ranges 5-6 tickets
SJRTD Bus Route #44 - Ride the Bus and Avoid the Fuss!: Route 44 will take you to the festival! (drop off near festival and not into the festival grounds).

Location:
San Joaquin County Fairgrounds
1658 S. Airport Way
Stockton, California
Upcoming Dates
Friday, Apr 12 2019 to Sunday, Apr 14 2019
Saturday, Apr 13 2019 to Monday, Apr 15 2019
Sunday, Apr 14 2019 to Tuesday, Apr 16 2019

Mark your calendars, food and asparagus lovers: the fun is coming back to...
More Info
Big and fat or small and skinny, California asparagus is a power vegetable...
More Info
Whether you're planning a large family event or a commercial event, the San Joaquin Fairgrounds offers a number of… More Info