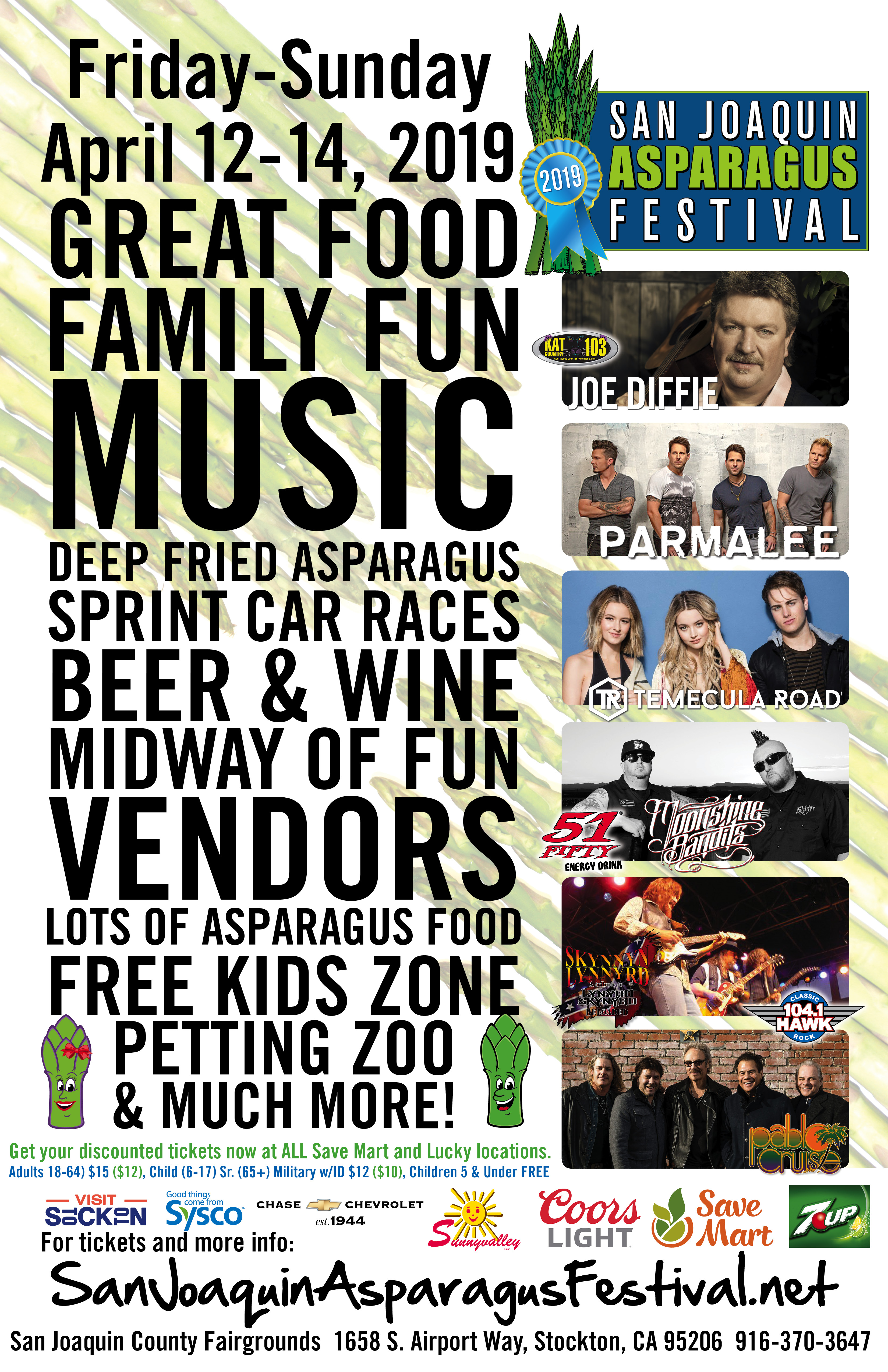 San Joaquin Asparagus Festival
Next Upcoming Date: Friday, Apr 17 2020
Visit Stockton this April 17-19, 2020 for the BIGGEST Asparagus Festival in the West!
With a fantastic lineup of events and entertainment, the San Joaquin Asparagus Festival is sure to be an enjoyable time for the entire family! The Festival offers everything from food to fun. Bring your family and friends and enjoy Asparagus Alley (Deep Fried Asparagus & Asparagus Ice Cream), Health & Wellness Fair, Local Celebrity Chef Demonstrations, Craft Beer and Wine Pavilion, Kids Zone with carnival rides and games, Country Farm Animals, Race Car Display, Petting Zoo, Plenty of Vendors and so much more!
Check out our blog: The Ultimate Guide to the San Joaquin Asparagus Festival for more tips!
Dates & Hours:
TIP: Saturday and Sunday afternoons can be busy. For the easiest parking, and shortest lines, we recommend getting there a bit early. Well worth it!
Single Day Admission Prices:
Adult (18-64) - $15

Child (6-17), Senior 65+, Military w/ID - $12

Child 5 & Under - FREE
Parking: $6.00 for vehicles and $3.00 motorcycles.
NEW for 2019: Online Ticket Sales
Discount tickets for admission and carnival wristbands are sold at Save Mart and Lucky Stores in the surrounding areas. Click here for a list of stores.
Main Stage Entertainment:

Friday:
Saturday:
Sunday:
Activities:
Asparagus Alley, Asparagus Plaza, Kids Zone, Health & Wellness Fair, Race Car Display, Asparagus Recipe Competition, Community Stage, Local Celebrity Chef Demonstrations, Carnival Midway, Craft Booths, Hundreds of Vendors, Deep Fried Asparagus Eating Competition and much more!
Food/Beverage Tickets:
**Deep Fried Asparagus, Asparagus Ice Cream, Beer, Soda & Water will require you to purchase food & beverage tickets.
Each ticket is $1 each and can be purchased in several different locations throughout the festival. (Tickets valid ONLY for the items below; all other vendors will not accept tickets)

Deep Fried Asparagus - 7 tickets
Ranch Dip - 1 ticket
Asparagus Ice Cream - 3 tickets
Soft Drinks - 3 tickets
Bottle Water - 3 tickets
Red or White Wine - 6 tickets
Beer - ranges 5-9 tickets
Note:
Asparagus Alley (deep fried asparagus and asparagus ice cream) lines cut off at 7:30pm sharp!

All Alcohol sales end at 9pm on Friday and Saturday due to extended festival hours, and 7pm on Sunday.
Wheelchairs, Walkers & Power Scooters are available at all festival entrances.
Wheelchairs & Walkers: $25 All Day; Power Scooters $25.00 for the first 2 hours, $40 for 4 hours, $60 All Day.
To reserve before you arrive, please call Ability Access at 209-944-7427

** No Outside Food or Drink Allowed
**No Weapons, Knives, Guns, Pepper Spray or Drugs. Please be prepared, Security will be checking EVERYONE who enters festival.
Questions? Message us!
Location:
San Joaquin County Fairgrounds
1658 S. Airport Way
Stockton, California
Upcoming Dates
Friday, Apr 17 2020
Saturday, Apr 18 2020
Sunday, Apr 19 2020

One of the most anticipated events of the year takes place in Stockton,...
More Info
Big and fat or small and skinny, California asparagus is a power vegetable...
More Info
Whether you're planning a large family event or a commercial event, the San Joaquin Fairgrounds offers a number of… More Info