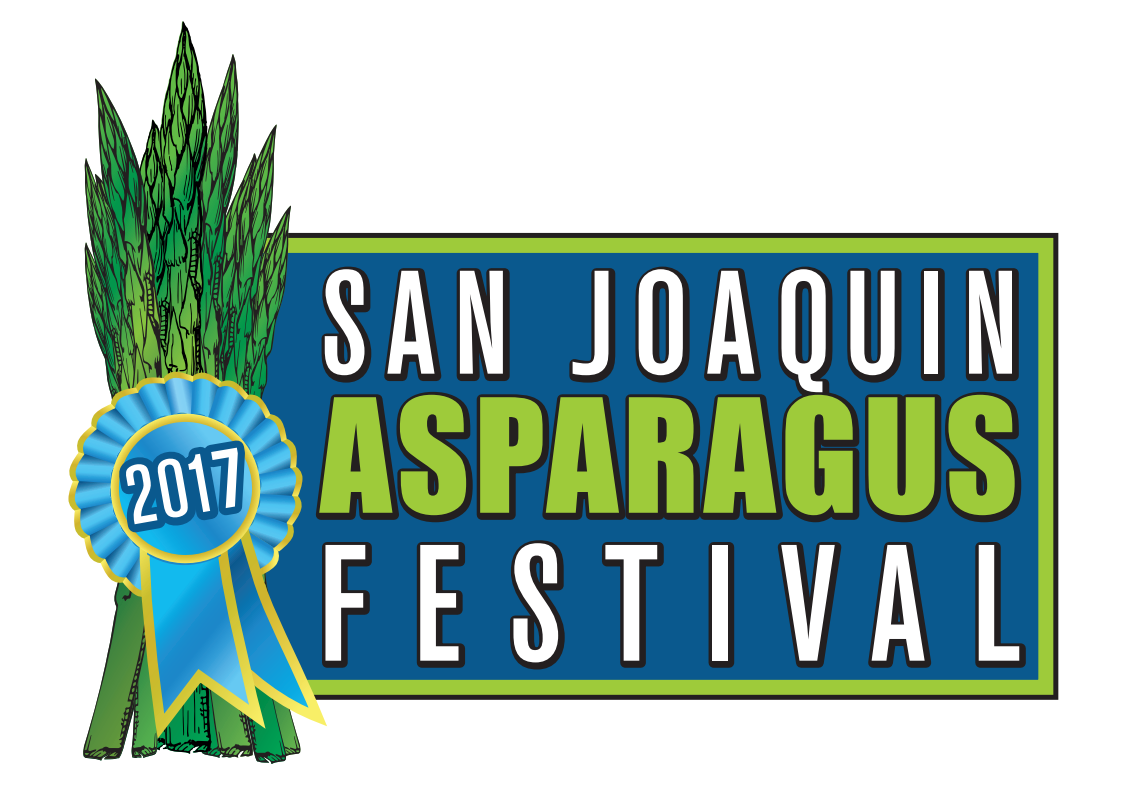 San Joaquin Asparagus Festival
Next Upcoming Date: Friday, Apr 20 2018
Join Us in Stockton April 20-22, 2018 for the BIGGEST Asparagus Festival in the West!
With a fantastic lineup of events and entertainment, the Asparagus Festival is sure to be an enjoyable time for the entire family!
Check back for 2018's details--see 2017's details below:
Dates & Hours:
10am to 8pm - All Three Days
Parking: $6.00 for vehicles and $3.00 motorcycles.
Single Day Admission Prices:
Adult (18-64) - $15
Child (6-17), Senior 65+, Military w/ID - $12
Child 5 & Under - FREE
NO ONLINE TICKET SALES.
Discount tickets will be sold at Save Mart and Lucky Stores in the surrounding areas starting March 15th: Adult tickets $12 - Child, Sr. & Military tickets $10. Click here for a list of stores.
The San Joaquin Asparagus Festival offers everything from food to fun. Bring your family and friends and enjoy Asparagus Alley (Deep Fried Asparagus & Asparagus Ice Cream), Health & Wellness Fair, Local Celebrity Chef Demonstrations, Car Show, Craft Beer and Wine Pavilion, Kids Zone with carnival rides and games, Petting Zoo and so much more!
Main Stage Entertainment:
Friday:
2:30pm - 3:30pm: Ricky Montijo & The Mojitos
4:00pm - 5:00pm: Mystic Moon - A Stevie Nicks Tribute Band
5:30pm - 6:30pm: Doug Petty & the Chartbreakers- Tommy Petty Tribute Band
7:00pm: Deep Fried Asparagus Amateur Eating Competition
Saturday:
Country Music
2:00pm - 3:00pm: Michael Roy
3:30pm - 4:30pm: Gunpowder & Lace
5:00pm - 5:45pm: Morgan Wallen
6:15pm - 7:45pm: Rodney Atkins
Sunday:
Classic Rock
12:00pm - 1:00pm: TMR - The Madness Remains
1:30pm - 2:30pm: Agent
3:00pm - 4:00pm: Long Time Band-Boston Tribute Band

4:30pm - 5:45pm: Journey Revisited - A Tribute to the Music of Journey
6:15pm - 7:30pm: Beer Drinkers & Hell Raiders - ZZ Top Tribute Band
Activities: Asparagus Alley, Asparagus Plaza, Kids Zone, Health & Wellness Fair, Community Stage, Carnival Midway, Craft Booths, Hundreds of Vendors, Superheroes 5K Run, Deep Fried Asparagus Eating Competition and much more!

Food prices:
**Deep Fried Asparagus, Asparagus Ice Cream, Beer, Soda & Water will require you to purchase food & beverage tickets.
Each ticket will be $1 each and can be purchased in several different locations at the festival. These tickets cannot be used at other vendors.

Deep Fried Asparagus - 7 tickets
Ranch Dip - 1 ticket
Asparagus Ice Cream - 3 tickets
Soft Drinks - 3 tickets
Bottle Water - 3 tickets
Beer - ranges 5-6 tickets
SJRTD Bus Route #44 - Ride the Bus and Avoid the Fuss!: Route 44 will take you to the festival! (drop off near festival and not into the festival grounds).

Location:
San Joaquin County Fairgrounds
1658 S. Airport Way
Stockton, California
Upcoming Dates
Friday, Apr 20 2018
Saturday, Apr 21 2018
Sunday, Apr 22 2018

Whether you're planning a large family event or a commercial event, the San Joaquin Fairgrounds offers a number of… More Info