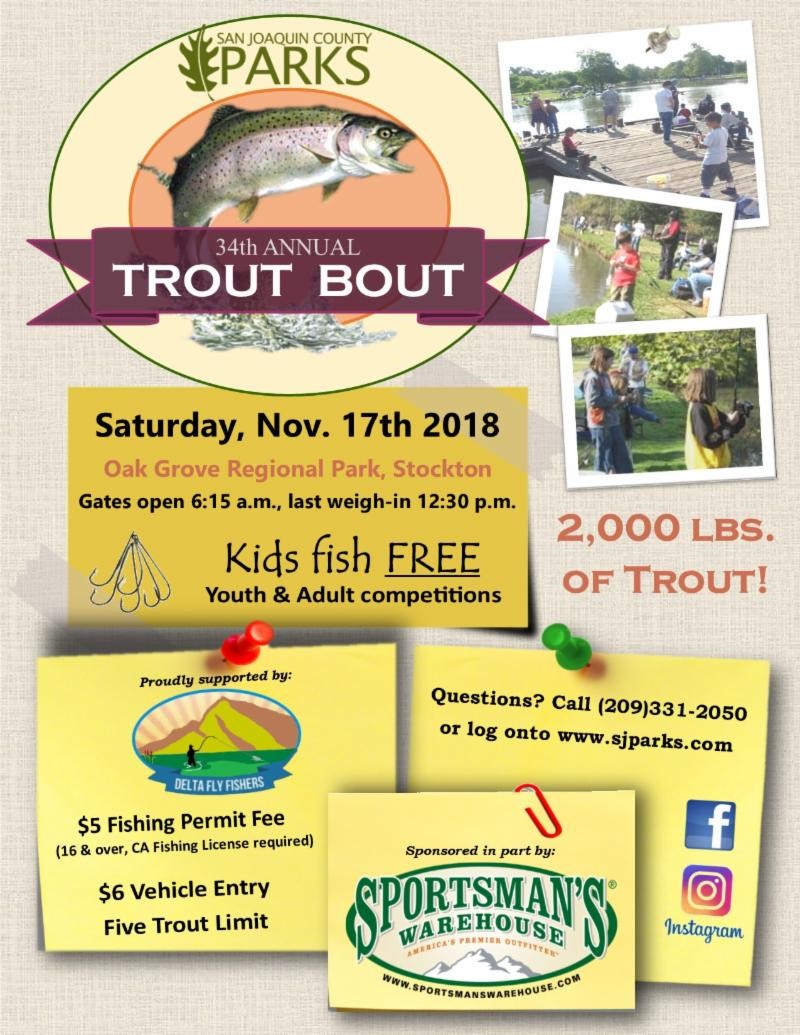 Annual Trout Bout
Date: Saturday, Nov 16 2019
Come fish for prizes and Rainbow Trout at the 35th Annual Trout Bout!
San Joaquin County Parks and Recreation and the Delta Fly Fishers will host the annual Trout Bout beginning at 6:15 a.m. at Oak Grove Regional Park.
Over 2,500 lbs. of Trout will be planted prior to the tournament, which is open to everyone. Prizes will be awarded in youth and adult categories.
Kids age 15 years and younger fish FREE at Oak Grove's 10-acre lake during the event. There is no registration fee, however, a $5 fishing permit fee and valid CA. fishing license are required for those sixteen (16) years of age or over.
A $6 vehicle-parking fee will also apply. 5 trout limit. All State Fish and Game laws apply. Participants must supply their own fishing equipment.
Park gates will be open at 6:15 a.m., derby registration closes at 10 a.m. and the last weigh-in is at 12:30 p.m. Prizes will be awarded shortly thereafter. For more information, call (209) 331-2050.
Oak Grove Regional Park is located on Eight Mile Road and Interstate 5 in Stockton.
Location:
Oak Grove Regional Park
Time:
6:15 AM to 12:30 PM
4520 W 8 Mile Rd
Stockton, California
Oak Grove Regional Park in Stockton features trails, playgrounds, fishing (all CA fishing laws apply), disk golf, and… More Info